This is a good place to start if your looking for a mailbox and post.  The matching sets we are selling from this page include some of the best mailbox post combinations available.
There is not a mailbox and post on this page that The Mailbox Shoppe has not installed.  We know our products very well and can answer your questions better than people less familiar with what they're selling.
Why not buy from a company that's installed their products and understands them inside and out. Swipe-right any photo below to begin exploring each product line to see detailed information including sizes, available colors, and prices. Email or call with any questions.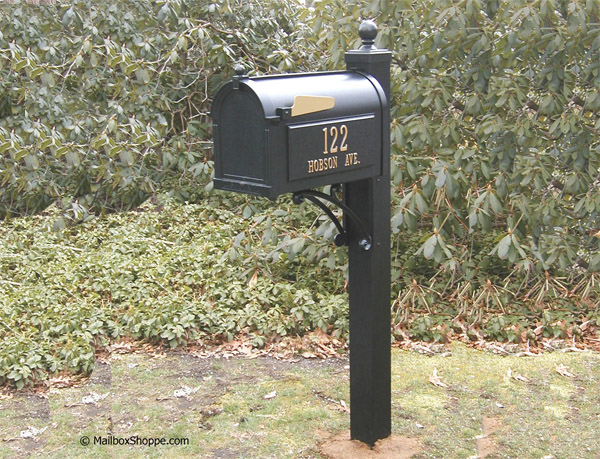 Imperial Mailbox Collection
Imperial Mailbox Systems is probably the oldest traditional cast aluminum mailbox manufacturer in the US.  We have sold their products at discounted prices since the early 1990's.  They offer a variety of styles and colors with painted finishes that last as long as any mailbox on the market today. For replacement Imperial Mailbox parts, see our Mailbox Replacement Parts page.
Be sure to use the arrows to scroll through all the Imperial Mailbox units.  There are more than a dozen to choose from.
Gaines Manufacturing Mailbox Collection
Gaines Manufacturing offers the Classic Pedestal Mailbox and the Keystone Mailbox Series.  These beautiful mailbox products feature perfect die-cast aluminum construction with long lasting powder coat finishes.  Gaines Mfg products are always in stock ready to ship within 24 hours from their San Diego warehouse location.  For replacement Gaines Manufacturing Mailbox parts, see our Mailbox Replacement Parts page.
Whitehall Mailbox Collection
Whitehall Products manufactures cast aluminum mailboxes and posts that feature custom cast address signage.  Their Capital and Balmoral Mailbox products are some of the most popular products we sell.  For replacement Whitehall Mailbox parts, see our Mailbox Replacement Parts page.
Special Lite Mailbox Collection
This is a large mailbox supplier that offers a great selection of cast aluminum mailboxes and posts in eight standard colors.  For replacement Special Lite Mailbox parts, see our Mailbox Replacement Parts page.
Newport Mailbox Collection
Classic styled galvanized steel mailbox available in 6 colors and paired with metal, vinyl, or azek mailbox post.
Traditional Mailbox Collection
Cast Aluminum mailbox posts in traditional styles
Hanover Lantern Mailbox Collection
Hanover Mailboxes and Posts are available again from the original Hanover Lantern factory.  Top rated products.  Made in the USA.
Aluminum Mailbox and Post Collection
I'm surprised we don't sell more of these very high quality and sturdy aluminum units.  They are available in a variety of colors.  You can mix and match the colors of the mailbox and post.  All installation hardware is included.  Just assemble, then dig a hole and plant it.